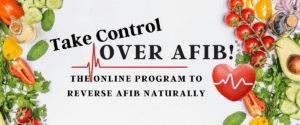 What you'll get:
An evidence based plan that has been reliably shown to improve atrial fibrillation naturally without using medications or procedures.
A plan that can help you reduce frequent and costly doctor visits and emergency room visits.
A plan that you can stick with for long-term benefits.
A go at your own pace style program.
A step by step plan that will help you improve the uncertainty of AFib and take back control over your atrial fibrillation.
Over 20 video lessons included, videos cover comprehensive information on diet, stress, exercise, medications, and procedures.
The 28 day Reverse AFib meal plan
Complimentary eBook copy of Your Complete Guide To AFib, over 120 pages of essential information on atrial fibrillation from Dr. Morales.
Following a successful checkout, you will receive immediate access to the entire program as well as a confirmation email with instructions to access to the program.
Invest with Confidence: Your Satisfaction, Our Guarantee. With this Atrial Fibrillation program, we're committed to providing you with the most valuable and informative experience. We're so confident in the value of this program, we offer a 7-day money back guarantee if you're not fully satisfied with the depth and quality of our program.